Psychedelic Trance, often referred to as 'Psytrance' is probably one of the most iconic genres in electronic music: It has a very distinctive, energetic sound and requires some solid skills and knowledges to produce.
In this week's Instagram post, we intend to recommend a few free audio plugins that bring interesting features for the genre.
Of course they're not just for Psytrance, and you can add them to your pool whatever genre you're into without spending a dime.

Would you suggest some more ? Feel free to let us know in the comments 👇🏻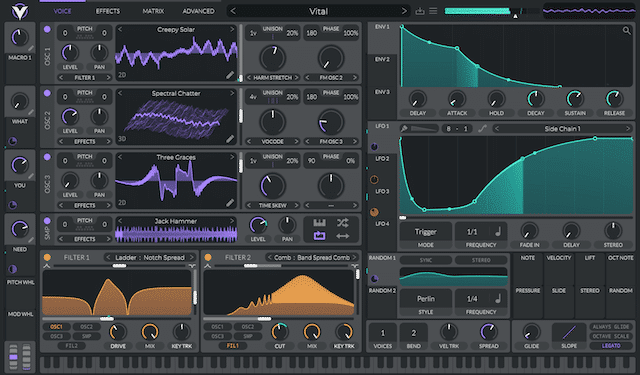 Vital is a free and powerful spectral warping wavetable synthesizer with a well built and intuitive visual interface despite its complex possibilities: This might be a great starting point even if you're new to sound synthesis.
A must have !
Gatelab is a gate sequencer and volume modulation generator designed to add rythmic movement to static pads, drones, basslines & more.
You can customize the modulation sequence or use its randomize functions to create all sorts of unexpected riffs and patterns.
S(M)EXCOSCOPE
by SmartElectronix
s(M)exoscope is a free oscilloscope that allows you to visually monitor audio waveforms:
This is a must to check the low frequencies phase interactions between your kick and bass for instance, and get a strong, consistent low end.
bx_subfilter is a free plugin designed to add clarity and definition to low-end:
by cleaning up the extreme low and help controlling the sub-bass while boosting a target frequency range.
There are various applications in which you can use it, including strengthening a bassline's fundamental frequency based on its key.
You may also be interested in...
PROXIMA SPECIES
Psytrance for Serum
► 130+ Serum Presets
► 17 SerumFX Presets
► 40 Midi files
Check out the full content on the product page !
Filterstep is a creative multi-mode filter with a built-in step sequencer:

It excels at creating complex and ever-evolving rythmic movement to static pads and drones, which makes it a perfect addition to your psy arsenal !
SUPERMASSIVE
by Valhalla DSP
With its 14 different modes, Supermassive is a must-have freeware designed to generate massive delays, lush reverbs and never-ending soundscapes:
Use it to create luscious clouds of reverb, otherworldly delays, and swelling waves of feedback unlike any you've heard before.
A1TriggerGate
by Alex Hilton
A1TriggerGate gate sequencer is a free plugin specifically designed to transform static audio signals and breath life into dull sounds.
DJM FILTER
by XFer Records
DJM Filter plugin provides a Pioneer DJM Mixer filter emulation in a dual LOWPASS/HIGHPASS filter module – all in one slick control that sounds great and can easily be automated within your DAW.
Fracture is a versatile effects processor designed to add glitchy articulations and abstract textures to your sounds: Use it on anything from drums to synth lines or vocals for creative results.
You may also be interested in...
Lifeforms | Psytrance For Serum
WANT SOME FREE SOUNDS ?
While you're here, why not grab some free sounds ?